REVISITING THE
PLVS
VLTRA
COMMEMORATIVE CAP
FOUR
NEW COLORS TO CHOOSE FROM


SORRY! LAST ONE SOLD ON 27 APRIL 2012.






WHITE with NAVY Embroidery






OLIVE with GOLD

Embroidery




KHAKI with NAVY

Embroidery




BLACK with SILVER

Embroidery



NOW AVAILABLE IN

BLACK

;

WHITE

;

KHAKI

;

OR

OLIVE!


(Specify 1ST and 2ND Choice When Ordering)


~Offer Posted 15 NOV 2009~



In the year 1535, an edict was initiated in Spain by the reigning monarchs. This

cedula

decreed that both Santo Domingo and Mexico City were now authorized to establish facilities at which to coin silver and copper. King Carlos I and Queen Regent Juana, in their very specific ordinance, detailed the appearance of the new coinage, as well as its weights, denominations, etc. Part of this description was that the king's motto: PLVS VLTRA ("More Beyond") was to be displayed in a conspicuous place on each coin, as well as the Gothic M (Mexico), identifying all such output as originating from the mint in Nueva España.
In 1536, the new mint in Mexico —established at the former hacienda of Hernán Cortés— was up and running and stamping out crude coins for colonial use and for the efficient shipment of precious metals to Spain.

In 2006, we commemorated

the 470th anniversary of the first issuance of any type of coins in the New World: those from the

casa de moneda

at Mexico City! The PLVS VLTRA Cap was our "dedication" to this pioneer effort.






NEW

PLVS

VLTRA

LOGO.©2006



What better way for us to commemorate this momentous event than to proudly wear the badge of King Carlos' crowning glory, the banner bearing the PLVS VLTRA motto strung between the Pillars of Hercules!!?? The banner is surmounted by the date that heralded the beginning of our common interest, and the earliest mint mark —the Uncial "M"— is positioned below it, creating our own "badge."




On the back of the Commemorative Cap, above the quick-adjust strap, are the half-inch-high words: "I DIG COBS!" … which only means something to us "inner circle" collectors, scholars, treasure divers, and beachcombers who do "dig" cob coins! I can envision coming down the aisle at a coin convention and being readily recognized as a collector of Spanish colonial coins just by the cap that I wear! I can also see the envy of others as I wear this striking cover while swinging my metal detector at the beach or protecting my nose from the sun aboard a salvage vessel off Florida's Treasure Coast!



ORDER FROM:

EN RADA Publications

ATTN: Ball Caps

P. O. Box 1698

W. Palm Beach, FL 33402

"PLVS VLTRA" BALL CAPS

MAKE A COME-BACK

Requests for the ball caps offered in 2006 keep coming in. Thank you! In light of the continuing interest in this item, we have authorized a small production of these PLVS VLTRA caps in new colors for this holiday season. This is to differentiate the new caps from the original issues … and to add variety to our sports wardrobe!


SPECIFICATIONS: Made of 100% washed cotton twill; embroidered logos; sandwiched, pre-formed brim; low-profile crown; one-size fits all adjustment strap.

The NEW Color Combos are:

BLACK

Cloth with

Silver

Embroidered Graphics and Trim;

WHITE

with

Navy

Blue

Graphics;

KHAKI

with

Navy

Blue

Graphics; and

OLIVE

with

Gold

Embroidery. (

Limited Quantities

of each. Specify 1ST and 2ND Choices when ordering.)

Commemorative Caps can be

shipped

until 15 December 2009 in plenty of time for the holidays! Think "gifts!"


Promotional item, priced at minimal profit:

$30.00 plus $5.00 postage in the U.S.


Ernie says, "I'll pay for the shipping carton!"









******************************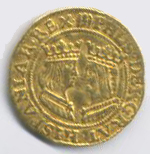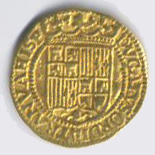 DUCAT. Spanish Netherlands (Kampen?). Three-Tower mint mark, top of obverse in legend. Felipe II ca. 1590. Obverse: Portraits (facing) commemorating the Catholic Sovereigns, Ferdinand and Isabella. Reverse: Crowned Hapsburg Shield. Weight: 3.4 grams. Major Diameter: 23.5 mm. Condition: Circulated, Extra Fine+.
PRICE: SORRY, WITHDRAWN!!
Contact: Ernie Richards--PH: 561-965-2930 or SeaScribe@att.net

Posted 05 February 2004


******************************


FULLY-RIGGED, "OVERNIGHTER"
SALVAGE BOAT FOR SALE
YOU KNOW THIS VETERAN BY ITS HISTORY AND
REPUTATION ALREADY!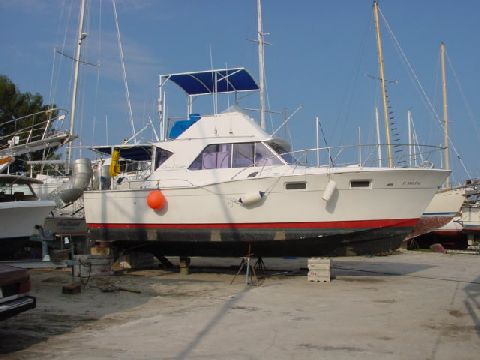 "TREASURE QUEST"
HER OWNERS SAY THIS ABOUT HER:
" 'Treasure Quest' has been active on the 1715 fleet sites, as well
as the 1733 fleet sites over the past 5 years. With twin gas-powered
454 Chevy engines the salvage boat has been able to excavate 6' to 8' deep in 20 feet of water in a matter of minutes.
"The twin blowers can be pinned from the boarding ladder,
rather than the conventional 'under the boat' connection (possibly a first in the salvage community). Under rough weather emergency conditions this can be quite a time [and finger] saver. The Brownie Third Lung hookah rig, with twin Gast Compressors, can handle 4 divers on 100 feet of hose when long-lining a new dive site.
"The salvage boat has both a fly bridge control station, as well as
a main cabin control station. Three point anchor stations, as well as a sailboat 'coffee-grinder' line-assist on the stern, are set up
to position the boat over salvage sites.
" 'Treasure Quest' was outfitted with a new toilet 2 years ago,
and has a shower on board as well. Outfitted with double bunk beds in one stateroom, and bow bunk beds forward, the boat can handle overnight trips when needed."
—Bob "Frogfoot" Weller and Rob Barfield, Treasure Divers and Former Owners of TREASURE QUEST MAGAZINE!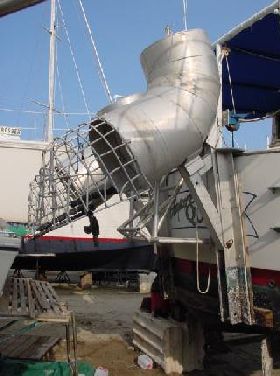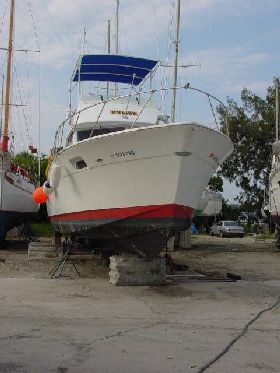 SPECIFICATIONS:
MAKE: Chris Craft
LENGTH: 35 Feet
BLOWERS: Twin Custom Aluminum "Treasure Coast" Style w/Cages
NAVIGATION: Differential GPS
EXTRAS: Brownie's Third Lung w/all Regulators and Hoses;
Heavy-Duty Dive Ladder
BOTTOM LINE: SORRY! SOLD!
Posted 08 August 2002.
******************************
ECONOMY CLASS, READY-TO-GO
SALVAGE BOAT FOR SALE!
FULLY-RIGGED FOR WORKING THE COASTAL REEFS...YOU COULD BE ON-SITE THIS SEASON!
SPECIFICATIONS:

BOAT: 23-Foot VIKING Inboard

ENGINE: GM Mercruiser, 350 c.i.
(Low Hours on Rebuilt Engine & Trannie)

TRAILER: Boat Stored on ROCKET Trailer. Ready for the road!

ELECTRONICS: Differential GPS, Marine Radio

BLOWER: Custom-built, Heavy Gauge Aluminum Prop-wash Deflector with Safety CAGE. Stepped design for easy entry / exit from water. Easy to install or remove from boat.

HOOKAH: Two Hose, HONDA-driven Surface-Supplied Air. Brand-new Carb.

OUTFITTING: Three-way Anchor setup, all lines included. Foldable Dive Tank Racks. Outriggers. Teak Dive Platform.

SORRY! SOLD!

Posted 13 JULY 2002.
******************************
1733 FLEET EIGHT ESCUDOS
PORTRAIT GOLD COIN FOR SALE!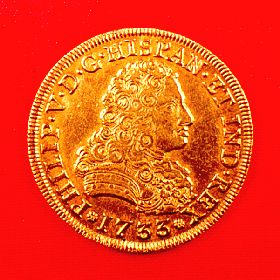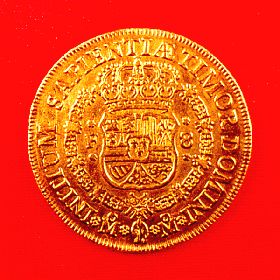 In the halçyon days of salvaging the 1733 Spanish plate fleet in the Florida Keys, divers Jack Haskins and D. L. Chaney recovered, among other treasures, five gold coins of great rarity today on the San José! One of them (currently for sale) is pictured here and another in Bob Weller's latest book, Galleon Alley, on page 153.
The first issue of milled gold coins occurred from the Mexico City mint in 1732, and only a couple of these can be traced today. The five San José "Portrait Coins" are among an estimated ten of this 1733 issue to have survived to modern times. (Jack had previously recovered a 4-escudo "portrait" from the Angustias of 1733.) The "face" of this coin bears a bust of King Felipe V of Spain, and the reverse is emblazoned with a crowned and wreathed shield of Spain. The mint mark (oM), the assayer initial (F), and denomination (8) [escudos] are noted on the reverse, while the date (1733) rests under the bust on the obverse.
Made of 22+ karats of Mexican gold, a photo does little to show off the actual beauty of this first series of "Portrait Gold" coins from the mints of the Spanish New World Colonies. Value? The worst of the five was sold to a collector, years ago when they were first recovered, for $26,000. If one goes to auction now, we are told it could bring $30-50,000 in the heat of the sale! [Weight: 27.0 grams. Diameter: 1.47 in. (37 mm.)]
GOLD IS FOREVER! Call Ernie Richards 561-965-2930
(or: e-mail SeaScribe@att.net)
PRICE: SORRY! SOLD! (First Caller Took It!)
Posted 29 SEPTEMBER 2002.
******************************
*PROFESSIONAL "BLOWERS" FOR SALE!
READY-TO-MOUNT "mailbox" prop-wash deflectors
*(MADE by Professionals, USED by Professionals!)
Here are TWO aluminum "dusters" (they have many nicknames) located on Florida's Treasure Coast.
One is for a 16" or 17" propeller (formerly run from a
350 Chevy inboard engine) the other custom-built
for a larger boat swinging a 21" or 22" screw
(formerly Diesel powered!)
Posted 09 Mar 2002.
PROPWASH DEFLECTOR #1
For 16" - 17" (MAX) propeller. Sound, all-aluminum construction. "We will advise the buyer how to mount this one as part of the deal. For a FEE, we will assist in the installation AT OUR FACILITY. This blower sold for $3000 new (installed), its price now is $1250, picked up at our shop in Sebastian, FL." Brackets and mods will be required to adapt to your boat.
ONLY $1250, you pick it up here!
PROPWASH DEFLECTOR #2
For 21" - 22" (MAX) propeller. Sound, all-aluminum construction, for up to a 35-foot boat! "We will advise the buyer how to mount this one as part of the deal, NO INSTALLATION OFFERED. For a FEE, we will travel within 30 miles to ADVISE on installation. This blower would cost $3500 new, its price now is $2000, picked up at our shop in Sebastian, FL." Brackets and mods will be required to adapt to your boat.
ONLY $2000, you pick it up here!

Contact "Ed" or "Harold" at 888-671-9172 or e-mail scoopman@mindspring.com (serious inquiries only, please!)




******************************

RETURN TO
HOME >>